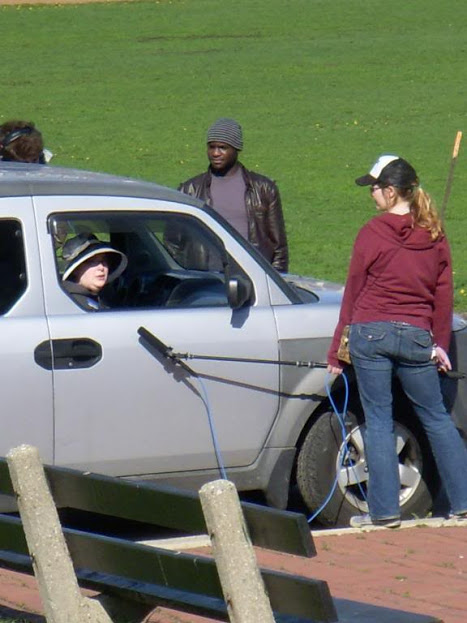 SYNOPSIS
In the second part of the EPISODICAL comedy-drama-mystery-thriller, Mary Jane Stoner stays locked in her house, waiting for the Killer to strike again. She grows more and more paranoid about the trouble she's been putting her friends through, and in a desperate attempt to keep her wits, picks up a knife.
Meanwhile, her friend venture to Oprah's mansion to find that not everything is as it seems. Oprah has left the building and a creepy assistant seems to be distracting them from the real events going on in the city.
During a fight about leadership and what it REALLY means to be a good friend, the group splinters, running off to different locations: all trying to catch the killer.
But it seems that the killer may be closer to capturing Mary Jane then ever--it's up to Taj, an ex-therapist for Team Ford, to lead Mary Jane (and her many personalities) to safety.
SEGMENTS & MUSIC
"Who's That Girl"
Written and Choreographed by Ike Holter
Composed by Aaron Briggs and Luke Wilson
"Numb"
Written/Produced by Hannah Michaelson
Composed by Aaron Briggs and Hannah Michaelson
"Stunned by Stars"
Written by Ike Holter
Composed by Laura Mahler
CREW
Writer - Ike Holter
Writer/Choreographer - Hannah Michaelson
Director - Gus Manery
Stage Manager - Sara Carter
Dramaturg/Wrangler - Evan Fillon
Choreographer - Sarah Carter
Location Crew
Camera - Aaron Briggs, Ike Holter, Hannah Michaelson, Colin Moneymaker
Boom - Aaron Briggs, Anna Rose Epstein, Hannah Michaelson
Sound - Katie Kirby
Post Production:
Score - Aaron Briggs, Somkey DeVille, Hannah Michaelson
Sound Design - Sean Blythe
Editor - Hannah Michaelson
Editor Consultant - Dita Von Twat
CAST
Anna Rose Epstein
Laura Mahler
Anya Clingman
David Ellis
Patty Corcoran
Mary Williamson
Rawhide Cruz
David Kaplan
Evan Fillon
Mackenzie Yeager
Matt Olson
Megan Householter
Matt Anglen
Wendy Beyer
Aaron Briggs
Walter Briggs
Eileen Doyle
Romeo Green
Rashaad Hall
Ike Holter
Nora Hughes
Sarah Kopp
Alexandra Marcus
Austin C. Pruett